S

ix and a half years ago, a total stranger to me and Bob decided we needed to meet. So she approached Bob and brought him to me and said you need to talk to Cynthia,... it was "fate".

That was the beginning
F

our years ago at the end of a perfect six week trip out west, our last stop was in Telluride, Colorado. Here is the journal entry. This town sits at 8750 feet above sea level and is absolutely beautiful. Telluride looks like an old western town from the 1800's with one main street, a bunch of little shops, restaurants and saloons. The entire town is surrounded by huge mountains. It is pretty incredible. Walking around town one day, we came across the gondolas so we took the gondola ride to the top of the mountain. At the top, was Allred's restaurant and bar. What a gorgeous place with an amazing view of Telluride. We stayed to have a glass of wine at the bar, two bottles latter we took the gondola back to town. We had such a fantastic time in Telluride. After several months of trying to decide where to get married, Bob said, "Cynthia, lets get married in Telluride". So five years latter on that same weekend we will be going back to Telluride with our closest friends and family to share in our joy and celebrate our wedding.
Hope to see you on September 26, 2009.
Email Us: cb@cynthiabob.com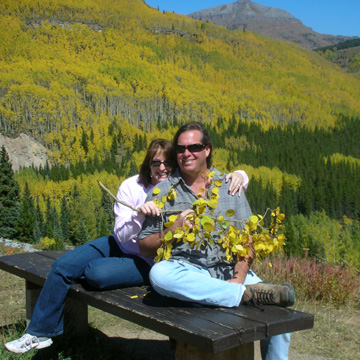 Thomas-Harris Wedding